PURE
Purdue Undergraduate Research Experience (PURE)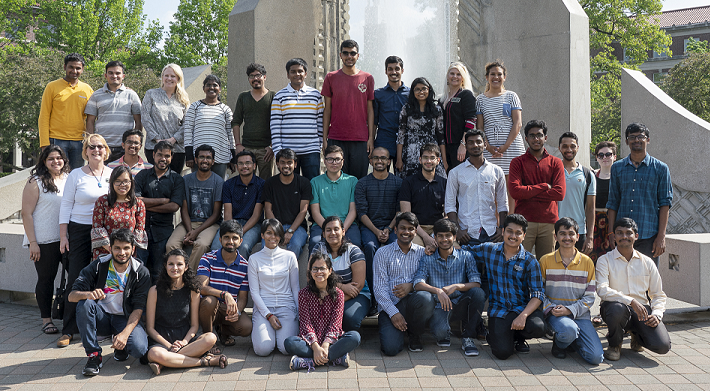 Purdue Undergraduate Research Experience (PURE) is one of the marquee programs of the Purdue-India Initiative. This nine-week summer program in partnership with three Indian Institutes of Technology: IIT Madras, IIT Bombay, and IIT Hyderabad will take place from May 13 to July 12, 2019. Through the program, top students in BTech programs or dual-degree programs graduating in 2020, are matched with Purdue faculty to work on summer research projects. PURE was created in 2016 as a mechanism to raise interest in Purdue graduate programs among high-students from IITs and foster collaborations in research and education by strengthening institutional partnerships—including department-to-department and research group-to-research group activities—while providing substantive research experience to top Indian undergraduates.
PURE 2019 Instructions and Eligibility:
Eligible students: High performing students in BTech or dual-degree programs from IITB, IITH, and IITM graduating in 2020.
Application instructions: Application opens on 1st November 2018 and closes on 15th November 2018. Individual instruction sheets will be available through each participating IIT. Students will apply online through the following link: https://goo.gl/forms/1hDnADjJ96CFoe4v2
IITB: IIT Bombay, Practical Training Cell training@iitb.ac.in
IITH: Dr. Siva Kumar, Associate Dean for International Relations: deaniar@iith.ac.in
IITM: Office of International Relations oir4@wmail.iitm.ac.in
Participating Departments and projects
The project list is not exhaustive; faculty had the option to post a project but many did not even though they may still be interested in receiving a PURE student. Students should select "General" as the project in their application and mention faculty members by name if they are interested in working with somebody who has not submitted a project.
(Note: Students who have the adequate background and qualifications may choose to apply for projects/positions in departments other than the one at which they are currently enrolled at their IIT).
Below is a list of participating Purdue departments in PURE 2019:
Agricultural & Biological Engineering
Chemistry
Civil Engineering
Computer Science
Electrical & Computer Engineering
Industrial Engineering
Mechanical Engineering
Nuclear Engineering
Physics and Astronomy
Contact